ALFA ROMEO 1750 Berlina, cpl. exhaust system incl. middle- and end muffler Abarth Nr. 1350/1404, German ABE for the Abarth endsilencer.
€ 695,00
ALFA ROMEO 1750 GTV/Giulia, Spider, Duetto Abarth cpl.exhaust system incl. downpipe,middle- and endmuffler nr. 1405/1350/2, this system is suited for the GTV with hydraulic clutch and hanging pedals. Price € 695,00
Herewith a Soundclip: Alfa Romeo SoundclipPellegrini IMG_0094(8)
This Abarth can also be used for the Alfa Romeo Giulia with hydraulic clutch and standing pedals.
You will have to connect the Abarth middle- and endsilencer to the standard downpipe, so the Abarth downpipe is not included.
Price for this set € 595,00
1750 GTV:
1750 Berlina: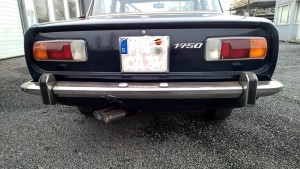 ALTERNATIVE: When you do want a little bit more sound but not too loud for the long distance running, you can choose for this alternative:               ABARTH nr. 1351, Abarth endsilencer with a 250 mm silencer with single 60 mm radius Abarth endresonator, incl. all the hanging brackets, Price € 275,00 + shipping
ALTERNATIVE FOR ABARTH NR. 1350: Abarth nr. 1208/2 with two endresonators and no muffler, incl. bracket.This universal endsilencer will fit to most Alfa Romeo models, including the Giulia 1300-1300TI-1600-1600TI, Sprint GT, GTC 1600 and GT Junior. Attention: the sound will be louder  than Abarth nr. 1350. See underneath ABARTH Drawing nr. 1258/1208!
Price € 235,00 + shipping
Abarth & C. ENDPIPE for Alfa Romeo 105-115 models with single 60 mm Abarth endresonator, incl. one bracket and round gasket,      Price € 195,00 + shipping(on special demand only!)
ALFA ROMEO, Abarth & C. connection pipe with Abarth muffler(HOSENROHR) for 1750 GTV/Berlina, hydraulic clutch and hanging pedals (please ask)
Price, only € 150,00 + shipping
ALFA ROMEO GIULIETTA SPRINT VELOCE, original Abarth endsilencer with 50 mm ID pipe and 35mm OD small chrome endpipes                                    Price € 350,00  + shipping (On special demand only!)
ALFA ROMEO GTV 6 2.5 from 1981-1987                                                    An original ANSA steel endsilencer, Ansa nr. AL 2427, new produced with twin 60 mm endresonators, Price € 510,00 + shipping(Only on special order!)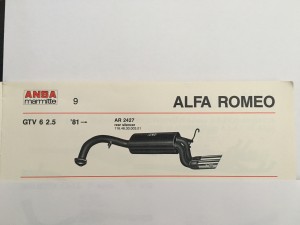 ALFA ROMEO Giulietta Berlina 1,3-1,6 and 2,0 till and from 4/79(1st and 2nd series) original ANSA endsilencer(NOS) with single 96×70 mm black chrome oval endresonator. ANSA nr. AR 2087, ref. nr. 116.50.30.003.00/04/09 Price € 245,00 + shipping
Also available: ANSA Downpipe(NOS) for Giulietta 1st.series, Ansa nr. AR 2023, price € 150,00 + shipping
ALFA ROMEO ALFETTA Berlina 1,6-1,8-2,0 from 1972, ANSA endsilencer Ansa nr. AR 1627/1967/1867 with twin 60 mm diameter resonators. Ref.nr. 116.55.30.003.02, Price € 245,00 + shipping
ALFA ROMEO 145 1,3-1,6,1,7 16V from 1995 a complete 2-piece ANSA exhaust system, ANSA nr. AR 8625 and AR 8699, Endresonator has chrome OD 90 mm diameter oval chrome endpipe.   Price € 395,00 + shipping
Also for ALFA ROMEO 145 2,0i 16V T.S. Quadrifoglio an 2-piece ANSA exhaust system, ANSA nr. AR 9125 and AR 9199.                                                  Price cpl.€ 395,00  from 1994/07-2001/01
Alfa Romeo 75 Berlina 1.6-1.6i-1.8-2.0 from 1985, an original ANSA Sports endsilencer Ansa nr. AR 3987 with single 96×70 mm black chrome oval endpipe or ANSA nr. AR 3927 with twin chrome 50 mm diameter endresonators, price each € 245,00 + shipping