ALFA ROMEO 1750 Berlina, cpl. exhaust system incl. middle- and end muffler Abarth Nr. 1350/1404/1351
€ 650,00
ALFA ROMEO 1750 GTV/Giulia, Spider, Duetto Abarth cpl.exhaust system incl. middle- and endmuffler nr. 1357/1350/2
€ 650,00
1750 GTV:
1750 Berlina: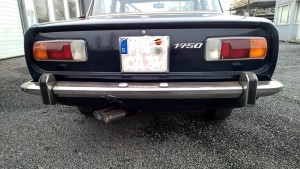 ALFA ROMEO 105-115 series, Abarth Nr. 1350 endmuffler for 1750 Berlina and GTV, Giulia's, Spider, Duetto, incl. round gasket and hanging bracket on the back incl. German ABE and Typenschild welded under the muffler
€ 350,00
ALTERNATIVE: When you do want a little bit more sound but not too loud for the long distance running, you can choose for this alternative:               ABARTH nr. 1351, Abarth endsilencer with a 250 mm silencer with single 60 mm radius Abarth endresonator, incl. all the hanging brackets, Price € 275,00 + shipping
ALTERNATIVE FOR ABARTH NR. 1350: Abarth nr. 1208/2 with two endresonators and no muffler, incl. bracket.This universal endsilencer will fit to most Alfa Romeo models, including the Giulia 1300-1300TI-1600-1600TI, Sprint GT, GTC 1600 and GT Junior. Attention: the sound will be louder  than Abarth nr. 1350. See underneath ABARTH Drawing nr. 1258/1208!
Price € 215,00 + shipping
Abarth & C. ENDPIPE for Alfa Romeo 105-115 models with single 60 mm Abarth endresonator, incl. one bracket and round gasket,      Price € 195,00 + shipping(on special demand only!)
ALFA ROMEO, Abarth & C. connection pipe with Abarth muffler(HOSENROHR) for 1750 GTV/Berlina, hydraulic clutch and hanging pedals (please ask)
Price, only € 125,00 + shipping
ALFA ROMEO GIULIETTA SPRINT VELOCE, original Abarth endsilencer with 50 mm ID pipe and 35mm OD small chrome endpipes                                    Price € 350,00  + shipping
ALFA ROMEO GTV 6 2.5 from 1981-1987                                                    An original ANSA steel endsilencer, Ansa nr. AL 2427, new produced with twin 60 mm endresonators, Price € 510,00 + shipping
ALFA ROMEO Giulietta 1,3-1,6 and 2,0 till and from 4/79 original ANSA endsilencer(NOS) with single 60 mm black chrome endresonator. ANSA nr. AR 2087 Price € 195,00 (Sorry all sold!)
ALFA ROMEO 145 1,3-1,6,1,7 16V from 1995 a complete 2-piece ANSA exhaust system, ANSA nr. AR 8625 and AR 8699, Endresonator has chrome OD 90 mm oval pipe.                                                                             Price € 395,00
Also for ALFA ROMEO 145 2,0i 16V T.S. Quadrifoglio an 2-piece ANSA exhaust system, ANSA nr. AR 9125 and AR 9199.                                                  Price cpl.€ 395,00  from 1994/07-2001/01