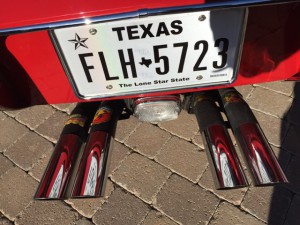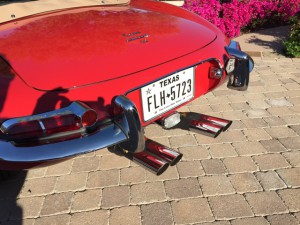 JAGUAR E-type 3,8 and 4,2 ltr. series 1-1,5 and 2 Abarth Nr. 1296 for Spider, Coupe, Roadster(incl. twin middle silencer and endresonators including two Abarth brackets, Abarth clamps, complete as shown on the pictures!
Gives your E-type a beautiful nice steel growl and magnificent showing!
€ 995,00 + shipping

Only the two Abarth & C. endpipes with twin chromium 60 mm endresonators, incl. the two Abarth hanging brackets, Abarth clamps, as shown beneath.
Price € 550,00 + shipping
Sound video for Jaguar E-type 3,8 ltr. 1st series
JAGUAR MK10-420G Abarth & C. twin exhaustsytem, 5 piece system, Abarth nr. 1318 including Abarth frontmuffler, two middle mufflers and two impressive Abarth endresonator pipes incl. all the brackets, clamps and (canvas)hangers.
This system will fit perfect, only one complete system left!
Only €  650,00 + shippping costs (Sorry sold!)