NEW: BMW 700 Sport Coupe twin Abarth Competizione endsilencers with two 28 or 35 mm mm OD chromium endpipes, dimensions muffler: 310x150x80, endpipes 250 mm length and 70 mm inletpipe; standard Inner diameter(ID) 30,9. Up to 37 mm mm can be adapted, Total length 660 mm,  excl. brackets, incl. Abarth clamps
Price € 650,00 per set + shipping
We are now working on a complete BMW 700 exhaust set including silencers and manifolds.
Soon to come!
NEW BARNFIND: BMW 1600 GT, original ABARTH & C. endsilencer + Abarth middlemuffler, Abarth nr. 1353, incl. German ABE, price € 790,00,00 + shipping

BMW 1600-2/1600TI/2002/2002TI/2002 Tii:
FIRST series BMW 1600-2(till ch.nr. 1850170)-1600TI(till ch.nr. 1585892) and 2002(till ch.nr. 1601901) Abarth nr. 1334
The pictures underneath are from a 1966 1600 TI first series, one of the first 1600's in the Netherlands
SECOND series 1600-2(from ch.nr. 1850171)- 1600TI(from ch.nr. 1585893) and 2002-2002TI(from ch.nr. 1601902) Abarth nr. 1356/1334-2
Abarth Nr. 1334 or Abarth nr. 1356/1334/2: there is a difference between the length of the front and endpipe and hanging bracketpoint of the middlemuffler. BMW used different lengths of front pipe/Hosenrohr coming from the manifold
€ 790,00  1st and 2nd series
Now also available : one ANSA steel spaghetti manifold(NOS), Ansa nr. BW2981/BW0281, 35 mm width pipe, endpipe 50 mm, Price € 595,00 + shipping.
On special order: a stainless spaghetti manifold as shown on the pictures, price € 595,00 + shipping
AT LAST IT IS HERE:
for the BMW 2002 Ti, Tii TOURING, all versions;
A complete Abarth & C. exhaust system, incl. Abarth standard 2002 middle muffler and special Abarth adapted endmuffler, incl. ABE, Price € 790,00
Only Abarth endmuffler also for sale, incl. ABE Typenschild and ABE papers, this Abarth endmuffler will fit to the standard BMW Touring middlemuffler.
Price € 395,00
BMW 1800 TI Abarth Nr. 1321
€ 790,00, only endmuffler also for sale € 375,00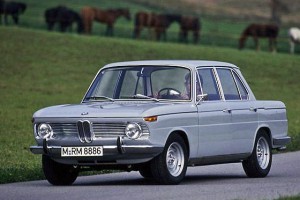 BMW 2000 TI Abarth Nr. 1281
€ 790,00, only endnuffler also for sale € 375,00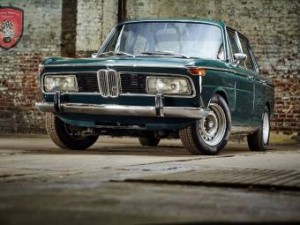 ABARTH SOUND 2000 TI:
BMW 2000 C/CS Abarth Nr. 1313/1281/1 cpl. 2-piece system, Abarth uses the BMW 2000 Berlina middlemuffler and a special CS/CSA endmuffler(you can see on the pictures the differences in lenght of the CS/CSA and 2000 Berlina endsilencers). Including German ABE                                                                                                             Price € 790,00 + shipping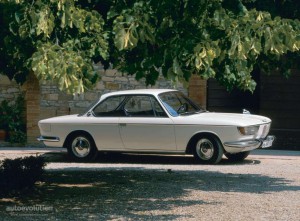 ABARTH SOUND 2000 CS:
BMW 2500/2800 Abarth middlemuffler Nr. 1397 € 395,00 (Sorry, sold out!)

BMW 525 Abarth Nr. 1548
€ 645,00 (Sold out)

BMW 316-318-320 4 cilinders E21 Abarth Nr. 1524. There are two versions of the Abarth endsilencer; 1st series endresonators to the right and 2nd series endresonators 300 mm on the left edge of the E21(Red car from 1982). Please state your chassinumber and year of build. Please compare the pictures!
€ 645,00
E21 second series endsilncer
Abarth manifold for E21, 316/318/320/4  4 cylinder price € 475,00 (SOLD OUT)
Abarth manifold for E21, 320/6-323i 6-cylinder 2-piece, price € 595,00 (sold out)
We can provide you now with original CSC and ANSA cpl. systems or only endmufflers (NOS) for BMW E21/E30 320/6 and 323I, please ask us what you need.(SORRY ALL SOLD!)
Also available ANSA Spaghetti manifold for BMW E30 320i and 323i from 10/1982, ANSA nr. 3081 till 9/83 price € 595,00 (Still for sale!)
Also: ANSA Middlemuffler for BMW 323i E30 from 10/1982, ANSA nr. BW 3025 + CSC endsilencer with single oval or CSC twin 50 mm chromium endresonators, Price € 395,00 cpl. (Sorry all sold)
CSC Italy BMW E30, 323i twin pipe sports exhaustsystem, with twin 50 mm endresonators, nr. BM 190200 and BM 190032, from  10/82 till 9/83           Price € 425,00 (Sorry sold)
The ANSA exctractors nr. BW3081 will fit to this CSC exhaust system.             Price € 595,00 Still available!
BMW E30 4-cilinder, 316-90 HP and 318I-105 HP from 10/82 till 9/85 an original CSC steel endsilencer with 45,5 mm inlet pipe and chromium oval endresonator, CSC nr. BM 140035 (SORRY SOLD)
BMW 320i E30, 125 HP from 10/1982-till 09-1983 complete exhaustsystem, including 2-part ANSA spaghetti manifold ANSA nr. BW 3081, including ANSA middle silencer and CSC endsilencer with 50 mm diameter pipe and oval 90 mm chrome endresonator.
PRICE € 725,00 + shipping
BMW 320i-E21 1990cc-122 HP from 1977-10/1982 an original ANSA middlesilencer BW 1725, BMW ref. nr. 18.121.246.402 KBA nr. 20705, Price € 100,00 + shipping
BMW 323i-E21, 2315cc-143 HP, from 1978-10/1982 an original ANSA Sports middlesilencer nr. BW1825, KBA nr. 20707, Bmw ref. nr. 18.121.246.658.   Price € 100,00 + shipping
Also for BMW 323i-E21, from 1978-8/1981 a CSC Italy Sports middlesilencer with CSC nr. BM  090200 Bmw ref.nr. 18121246658, only € 100,00 +shipping
BMW 323i-E21 2315cc-143 HP 1978 till 10/1982 and 320/6 E21 an original German ERNST middlesilencer with Bmw ref.nr. 18121246658.                  Price € 100,00 + shipping
BMW 323i-E30, 2360cc-150 HP from 10-1982 till 9-1983 a CSC Sports middlesilencer nr. BM 190200, Bmw ref.nr. 18121176980.                         Price € 100,00 + shipping