We have several twin Abarth resonators(NOS) to make your own endpipes.
Looks great and sounds even better like on this German DAF 55 Marathon Rally 1700cc!!!! The fastest DAF in Europe.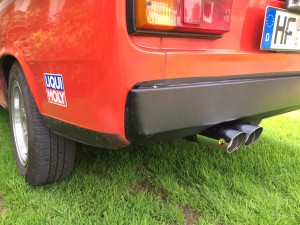 Did you know that Abarth produced an Abarth exhaust system for the first DAF: the DAF 600 with Variomatic, introduced on the RAI exhibition show in Amsterdam in 1959. In those days an instant succes, automatic at no extra costs, 4000 orders were taken on this exhibition!