SIMCA 1000 Berlina. and Simca 1000 Bertone Coupe for engine 315-349-351 Abarth Nr. 1173F € 350,00 + shipping

Extra for std. manifold to fit nr. 1382 to engine type 349 +€ 130,00
SIMCA 1200 S Competizione, Abarth nr.1348/1382, with the wide exhaust flange 351 engine. Very exclusive Abarth Competizione exhaust with chromium endresonators and including the original Abarth spaghetti manifold. Price € 895,00 + shipping


Alternative: Simca 1000 Competizione, based on Abarth Nr. 1173 Simca 1000 and modified spaghetti manifold Italstyle incoming on the front instead on the top, incl. German ABE
will fit Rallye 1-2, 1200 S, 1000 GLS
Price € 795,00 + shipping
Now available for the Simca 1000 Rally 1-2 and 3 a two-part steel spaghetti manifold for the Rally 2 and 3. Engine type 351-371-1G1-1G4-1G4C. This manifold is modified to create a safe distance between the tank and exhausts manifold. Suited for street and racing: for transverse fitting of the endsilencer. Price € 450,00 + shipping (On special order only!)
SIMCA 1000 Bertone coupé, Abarth nr. 1173 Price € 350,00 + shipping
You can use Abarth Nr. 1173 on the Bertone Coupe with Poissy engine typ 315-349-351 with 944cc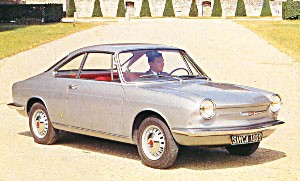 Simca 1300/1500, only endsilencer Abarth nr. 1206
Price € 195,00 + shipping(sorry sold)
SIMCA 1301/1501 cpl. incl. middlemuffler
€ 425,00 (only endsilencer € 295,00). ALL SOLD!

SIMCA-CHRYSLER 160/180, original Abarth & Co. endsilencer, Abarth nr. 1421 Price € 295,00 + shipping (ALL SOLD!)
SIMCA 1307/1309, Abarth endsilencer + middle silencer, Abarth nr. 1530 incl. German ABE Price € 345,00 + shipping(ALL SOLD!)
SIMCA-ABARTH 1150 SS Corsa/Bertone 1000 Coupe Competizione
Abarth endmuffler with twin inlet! (Sorry sold)

This unique Abarth endsilencer has now been fitted to an original Simca-Abarth 1150 SS Corsa 6-gearbox, which is with Guy Moerenhout in the ABARTH Worksmuseum in Lier, Belgium.
For sale a real barnfind: an original new Fratelli BOSI COMPETIZIONE COMPLETE EXHAUST SYSTEM(NOS) from Suzzara-Italy a very new old stock from 1964 with SPAGHETTI MANIFOLD INCL. BOSI ENDSILENCER WITH TWO entrance pipes and two 60 mm diameter endresonators for a Simca 1000 Bertone Coupe 1962-1966 and Simca 1000 first series, engine 315 944cc incl. narrow cilinderhead flange on the spaghetti manifold.
Fratelli BOSI was in the sixties one of the big exhausts competitors of Abarth, together with ANSA, Supersprint etc..
Fixed Price € 795,00 + shipping (SORRY SOLD!)