We have lots of original Abarth documentation, like old pricelists with exhaust drawings, from Germany and USA, old advertisements,
-We now have the original two posters from Jean-Jacques de Galkowsky in our programm,two posters, ABARTH cars from 1949-1964 and from 1964-1985, printed on heavy quality paper, dimension posters 510×700 mm, Price per set € 49,50 + shipping (extra for plastic laminating per poster € 10,00)
ABARTH JOURNALS, 4 pages in A2 format:
– 1962 (Francais, Fiat-Abarth nouvelles '62, Sima-Abarth 1300, Exhausts summary pre 1962)
– 1963 (intro Simca-Abarth 1300, Fiat-Abarth 1000 bialboro Beccaris coupe, 200 victories in '62)
– 1967 (pictures of Corso Marche racing department, exhaust production and summary of exhausts 1967-1968)
Professionaly printed 4 pages, Price € 49,50 excl. posting.
Extra for laminating per page + € 10,00
NEW: ABARTH Exhaustposters from the beginning of the sixties(small 25-35 mm chromium endpipes) and the seventies( big 60 mm chromium endresonators). Format 600 x 430 mm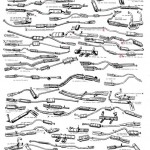 Unique printing on quality paper, Price € 17,50 excl. VAT, excl. shipping
When you are interested in these items, please contact us. They are all for sale as printed matter and we can send it to your address, safely packed.