FIAT 500-126 and FIAT-ABARTH 595 SS-695 SS a stainless steel racing exhaust with 40 mm OD pipes and 50 MM OD single outgoing endpipe. Maximum dB 95, succesfully used in the Abarth Coppa € 595,00 + shipping.          ATTENTION: you will have to modify the back endplate of the carosse!
FIAT-ABARTH 124 Spider 1800 CSA, the original ABARTH & C. two piece exhaust system with one middle- and endsilencer, 50 mm OD pipes, Abarth nr. 1465 price of this system € 995,00 + shipping incl. German ABE! Max.noise 95 dB.
At extra price: second 250 mm middle silencer for max. 82 dB + € 195,00, Extra for steel downpipe (Hosenrohr) +€145,00
Fiat 124 Spider 1800 CSA Group 4 Abarth exhaust system including middle pipe and special Gr.4 Abarth endsilencer with big internal diameter twin Abarth resonators, Price € 1.250,00 incl. 21% Btw/Vat + shipping(ONLY ON SPECIAL ORDER)
FIAT-ABARTH 124 Spider Rally 1800 CSA, STEEL header/spaghetti manifold with 50 mm diameter connection pipe, will fit perfect to the Abarth exhaust system nr. 1465.                                                                                   Price € 695,00 + shipping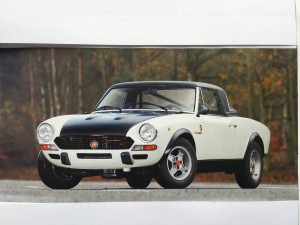 FIAT 131 RALLY ABARTH Stradale, a 2-part Abarth & C. exhaust system with Abarth middle silencer and Abarth endsilencer with big internal diameter endresonators to cope with  the 140 HP 16V engine, main pipe diameter 50 mm, Price € 1.095,00 incl. Vat/Btw + shipping (on special order!)
ABARTH endmuffler with twin entrance and 2 chromium 60 mm endpipes with inner diameter of 34 mm, very suited for Racing and High performance + BHP cars like the Fiat Abarth 1000 TC, 1600 OT and 2000 OT Due Milla
PRICE € 495,00 + shipping
FIAT-ABARTH 1000 TC, stainless spaghetti manifold as used in the Abarth-Coppa-Mille series, Price € 695,00 incl. Btw/Vat + shipping
Extra for Y-piece to weld on the silencer  including springs and hooks € 85,00
Also in combination with stainless oval endmuffler with 60 mm single pipe, excl. brackets, Total price € 1.195,00 + shipping
Alternative: The spaghetti manifold in steel or stainless as shown above in combination with an original Abarth black endsilencer(dimensions 335 x180x90 mm = LxWxH) with twin 60 mm chromium 250 mm Abarth endresonators or an original Abarth endsilencer with twin 35 mm chrome 250 mm endpipes(dimensions 310x150x80 mm =LxWxH), price for both versions per set € 1.295,00 incl. btw + shipping
Alternative: Abarth endsilencer with single 60 mm Abarth chrome endpipe, complete with header, price € 1.250,00 incl. btw + shipping
ALTERNATIVE Abarth endsilencer with 60 mm chrome Abarth endpipe;
ABARTH Middle mufflers, several versions, with one or two entrances, ask for price
FIAT-ABARTH 1000 OT/OTS, ABARTH manifold Nr. 1260 with ABARTH endmuffler incl. brackets
Price €  995,00 cpl. + shipping
FIAT-ABARTH 1300/124, replica steel ABARTH exhaust with twin 60 mm diameter chrom endresonators incl. the two pipes to the manifold and the steel gasket.             Price € 595,00 + shipping (in stock again)
ORIGINAL ABARTH chromium set of endresonators or endpipes without resonators
outer diameter 60 mm, choice of different innerdiameters and lengths
Ask for availibiliety!
Simca-ABARTH 1300 OT/2000 OT Due Mila
Complete exhaust system incl. manifold, please ask!
FIAT-ABARTH 1000 OT/OTS
A thin stainless pipe manifold/header for the 850 Berlina, Coupe and Spider series, including the Fiat-Abarth 1000 OT/OTS, for racing or street cruising. This manifold is gave extra HP on the testbench, because of the long equal length of the pipes!
Including 180 degrees 50 mm endpipe.
Manifold/header, ALL SOLD!.
In combination with an original ABARTH endmuffler, ALL SOLD!
ATTENTION: Due to retirement of the builder new orders cannot be accepted anymore!!
ALTERNATIVE single 60 mm chrome Abarth endpipe: