LANCIA BETA MONTECARLO-SCORPION from 1975-1982                                                                                                A new produced ANSA endsilencer with four 60 mm ANSA endresonators, beautiful made and fabulous sound, perfect fitting, ANSA nr. LN 2220 Price € 1.320,00 incl. 21% Dutch VAT/Btw + shipping.
NEWS: We now can supply a tailormade Spaghetti stainless steel manifold/downpipe 4-2-11, which fitts exactly to the ANSA sports exhaust nr. LN2220.
The partsnr. of this spaghetti manifold/downpipe 4-2-1 is: SS1702
Price € 675,00 incl. Btw/Vat + shipping
So a complete exhaust system incl. ANSA silncer and stainless manifold, total price € 1995,00 incl. VAT/Btw + shipping
When exporting outside the EU you don't pay 21% Dutch Btw/Vat, then the price will be € 1.648,00 + shipping
When you are interested in the stainless endsilencer SS1703 with twin exhaust pipes, please contact us and you will get a quote soon!
LANCIA Beta Berlina, endmuffler, Abarth Nr. 1522 with twin 50 mm chromium endresonators
€ 275,00 (Sorry sold!)

Alternative: Lancia Beta HPE ANSA endmuffler, Price € 195,00 (Sorry all sold)

LANCIA Y10 Fire (999-1050 cc) from 1985
ANSA spaghetti manifold, ANSA nr. AB 1381 (Sorry sold)
LANCIA Y 10 Fire 11,1-GT 1.3 i.e from 8/89
ANSA endsilencer, inlet inner diameter 43 mm  with 80 mm single pipe (Sorry sold)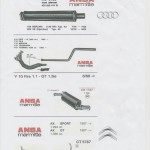 NEW: again available from ANSA Italy a new line-up for the Lancia Delta HF Intergrale 4wd -8v 86-91- Delta HF 4wd 16v Evolutione 91-94 and also Stratos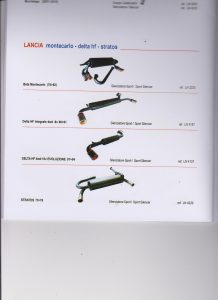 Please ask for a quote!