We are also specialised in delivery of custom-made exhaust racingparts for racing and street. Specially for the Abarth Coppa Mille we produce stainless steel racing exhausts for the Fiat-Abarth 500/595/695, 1000TC-TCR and Autobianchi A112 Abarth. As an alternative to stainless we produce steel racing manifolds for the 1000 TC which can be coupled to the racingsilencer or to an original steel Abarth silencer. It is even possible to make your own exhaust with parts we sell.
We stock Abarth endmufflers, middlemufflers and Abarth endresonators (length from 280-440 mm) to suit Ferrari and Maserati big horsepower cars,with large internal diameters for the endresonators, twin in/twin out end- and middlemufflers.(See also chapter Abarth and Simca-Abarth)
Also in our programm is a alternative to the Campagnolo Electron magnesium rims:
We have a set of Cromodora  Magnesium 6 x 14″  (5×112) and more and more (SORRY All sold)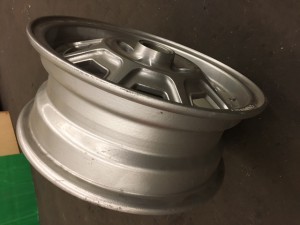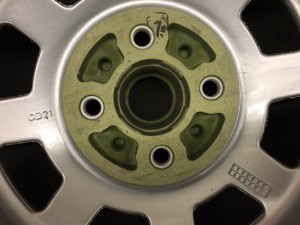 Cromodora CD21 rim 5×13 price € 125,00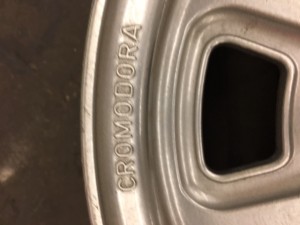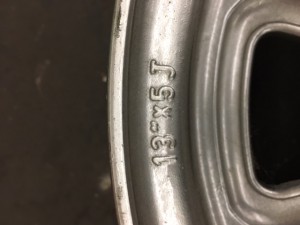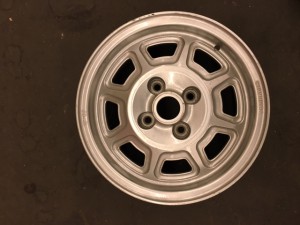 A set of 4 alumiunium ATS/Lexmaul rims, 8j x 13, 4 x98, tubeless, used, very good conditon, no damage! Price € 795,00 + shipping (SORRY SOLD!)
A set of 4 aluminium rims 5,5j-13, beamed and powdercoated, 4 x 98 and ET25, tubeless. They are very Look-a-Like to the original Campagnolo Electron magnesium rims and much safer to race and use on the road.
Price per set € 795,00
JUST arrived a set of four steel Borrani's 4,5j-12, suited for Fiat-Abarth 595-695 and 500
Still in original condition, year 1970
Price per set € 495,00 (Sorry sold!)

Cpl. stainless steel racing manifold coupled to a stainless steel silencer 95 dB, excl. brackets for Fiat 600/1000TC as used in the Abarth Coppa Mille /Kampf der Zwerge racing series
Price € 850,00
Only the stainless steel manifold for 1000 TC( endmuffler not included!), including hooks and springs, excl. brackets
As shown above.
Price € 450,00
– Steel manifold for 1000 TC, steel not treated!
Price € 395,00 excl. brackets
Only stainless steel racing silencer, 95 dB, single big bore 60 mm pipe, incl. Y-connection + springs for 1000 TC, also possible with TCR-exhaust flange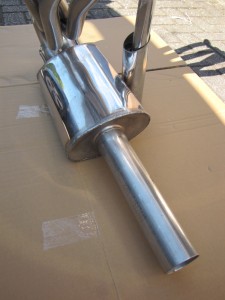 Price € 425,00
Alternative: FLAME INOX pipe, cpl. with Y-connection and springs € 250,00 complete with INOX spagfhetti manifold € 675,00 + shipping (on special demand only)
Now also available Stainless racing endmuffler with MAXtreme patent with catalysator and Lambda sonde connection, incl. Y-connection cpl.
or
ABARTH 1000 TC of TCR Megaphone steel endsilencer with Maxtreme Patent in white or black heatproof paint
MAXTREME Performance is a well known company from Holland, specialized in Motor-Racing exhaust systems and uses a this unique patent to reduce the dB's
No POWERLOSS and still max. 95 dB, to use for your Fiat-Abarth 1000 TC.
Avoid the BLACK FLAG! See the maxtreme silencer as listed above!
Endsilencer Maxtreme Price € 695,00
Cpl. stainless steel racing silencer, 95 dB, with twin chromium original Abarth endpipes 60 mm diameter, with  Y-connection, hooks and springs in combination with stailnless spaghetti manifold, as used in the Abarth Coppa Mille/Kampf der Zwerge
 Price € 825,00

Only Stainless endsilencer with twin ABARTH  60 mm diameter chromium endresonators
Price € 395,00
ABARTH modified special exhaust for Fiat-Abarth 124 CSA Group 4 and 131 Abarth Group 4
With 60 mm,2 or 2,5″ inlet and 34 mm internal diameter resonators, Price € 435,00
– Cpl. steel Abarth silencer including steel or stainless manifold, black or white paint for 600/850TC/1000TC, including original Abarth & C. endsilencer with twin 60 mm diameter Abarth endresonators with hooks and springs and welded Y-connection, No brackets! Alternative: Original Abarth endsilencer mit small 35 mm chrome pipes incl. two brackets
Price € 850,00
FIAT-ABARTH 1000 OT-OTS and FIAT 850 Berlina/Spider/Coupe a tin pipe stainless four in one manifold/header ending in a 50 mm 180 degrees endpipe Price € 895,00 + shipping
You can couple an Abarth endsilencer to this manifold, Price + € 300,00      Total price € 1.195,00
– Abarth 1600cc silencer to weld on
Price € 245,00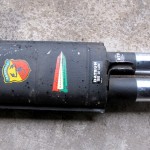 – Y-connection, steel, incl. springs
ABARTH endmuffler with twin inletpipes,  1 x up to 150 HP and one up to 200 HP, with 34 mm internal endresonators. Price 345,00
Abarth universal endsilencer with twin 60 mm chromium rising pipes(no resonators) up to 60 mm diameter incoming pipe.                                     Price only € 125,00 + shipping
Now also available:
A pre-1963 original ABARTH endmuffler, with twin 28 or 35 mm chromium endpipes, dimensions muffler 310 x 150 x 80 mm, pipes are 250, 280 or 320  mm long, various inlet diameters, PRICE € 350,00
Price € 55,00 in steel, incl. springs and brackets to weld on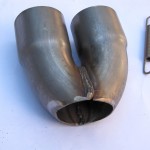 – Y-connection, stainless, incl. springs and brackets to weld on
Price € 70,00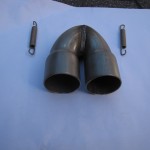 – Stainless steel cpl. racing exhaustsystem for Fiat 500/595/695, 95 dB very nice flow.
Price € 425,00
– TCR style stainless exhaust for 1000 TC
With this special the loudest car in the Abarth Coppa Mille/Kampf der Zwerge
Price € 890,00 (delivery on special request)
ANSA endresonators, round(60mm)and square resonator(80mm), to weld on, various dimensions inlet 38-42-51-57-60 mm.
In stock: TQ 4227, TQ 4229, TQ 5127, TQ 54, TQ 5729 (Square)
TK 5729 and TK 6029 (Round)
Gets the dB down, Price € 35,50 each
Single chromium endpipe, inner diameter 29 mm Price 15,00 for Fiat Topolino

Double chromium sidepipe TK0007 € 37,50
All prices incl. VAT, excl. transport
FIAT-ABARTH 1000 OT Berlina
We now have the chrome ABARTH grille in our programm incl. the Fiat Abarth 1000 red plastic insert + chrome frame and Abarth badge on the chrome logo. Including all the nuts and bolts M3.                                                         Price € 550,00 incl. 21% Vat/Btw + shipping.
The same chrome Abarth grille for the Fiat-Abarth 1600 OT Berlina is also available
Price € 650,00 incl. 21% Vat/Btw + shipping
The beautiful Fiat-Abarth 1000 OT Berlina model scale 1:18 is for sale with www.laudoracing-models.com (costs ca. € 100-110,00 incl. shipping)