NEWS:
FIAT ABARTH 1000 OT Berlina 1964 grille, incl. chrome logo with Abarth badge and unique red background, chrome grille frame with original period Fiat Abarth 1000 red plastic insert(NOS 1964), incl. all the nuts and bolts M3.   Price € 695,00 + shipping
All the shown badges Campione del Mondo, chrome characters like fiat abarth, 1000 and OT logo are also available, please ask!
The shown Fiat Abarth 1000 OT model 1:18 is available with Laudomodels-racing.com
NEWS:
FIAT 130 Coupe and Berlina V6 an original Abarth & C. endsilencer with twin 60 mm chromium endresonators, perfect fitting and awesome souind!, PRICE € 440,00 + shipping
Please ask for delivery time!
NEWS: HONDA S 800 Coupe and Roadster ABARTH exhaust syste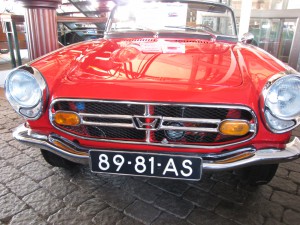 m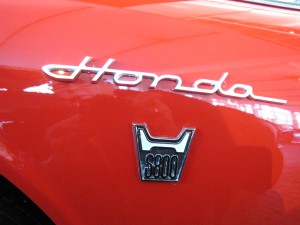 We now have in our programm the original Abarth & C. 3-part exhaust system(NOS) for the Coupe and Roadster with Abarth nr. 1327-1322. Delivery including Abarth middle silencer and two twin Abarth endresonators. Included are four Abarth clamps and a bracket under the silencer. Beautiful darkbrown steel Abarth sound, perfect fitting and including the German ABE (Allgemeine Betriebserlaubnis).
Price € 850,00 incl. VAT/BTW + shipping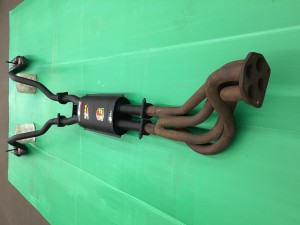 NEWS: FIAT 1200/1500 std. Fiat engine(Not OSCA)
Abarth & C. endresonator instead of the last endsilencer.
Perfect fitting with Abarth clamp and bracket. Beautiful dark Abarth tone.
Gives your Spider just that extra bite and style! Price € 350,00 + shipping