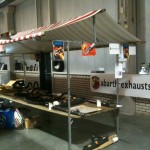 We were present on this important VOLVO classic car event during two days, which is held every year in October. We showed ABARTH exhaust systems for the Volvo 120 and 140 series.
A lot of Volvo enthousiasts did not know ABARTH & Co made these unique exhausts for their cars, already since the 50ties, so lots of surprised faces.
The Abarth exhausts gives a Volvo a light growl when you press the acceleration pedal, but the sound comes out of the 2 chromium 60 mm exhaust endpipes and not into the interior, which stays silent.
Now available for 122S-123 GT B18-B20 and 142S/144S, 1970 with twin pipes and also single dual pipe. Look further on the site.